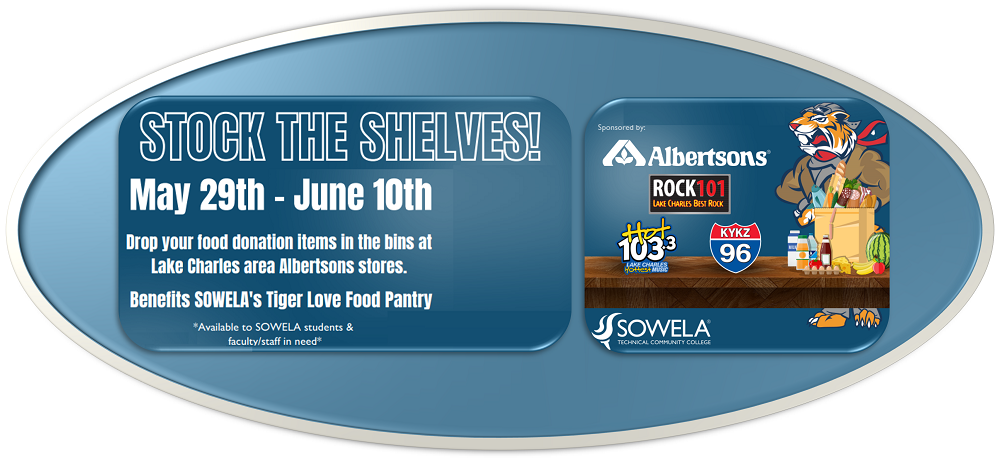 Donation Drop-off is May 29th – June 10th at all Lake Charles area Albertsons
Join The Big Kix 96-1, Hot 1033, Rock 101 and Lake Charles area Albertsons as SOWELA Technical Community College invites the Southwest Louisiana community to help stock the shelves for the College's food pantry starting Monday, May 29, through Saturday, June 10. Donation drop-off is at Lake Charles area Albertsons stores.
Suggested donations include packs of spaghetti, cans of tomato sauce, canned vegetables, rice, beans, mac and cheese, granola bars, popcorn, crackers, individual boxes of cereal, chili, boxes of meal helpers, toothbrushes and toothpaste, shampoo and conditioner, laundry detergent, toilet paper and paper towels.
"Food insecurity is more common than we think, especially on college campuses," said SOWELA Director of Student Services Megan Fabian. "This is why SOWELA created an on-campus food pantry that provides needed items to students and even faculty and staff in need in a free and confidential way."
The food pantry is available to all current SOWELA students, faculty and staff. Members of the SOWELA community complete an online form and receive a notification when their items are ready for pick up at the Main Campus. Food bag delivery is available for students at the Jennings, Leesville and Oakdale locations.
For more information, visit our Food Pantry page or call (337) 421-6565, ext. 4633.